As the nation  is gripped with COVID-19 crisis, there are some people who are taking advantage of this pandemic and still commit crime/fraud.  Lately there have been reports of SMS pretending to be from UnionBank which redirects you to a phishing site upon clicking on the link.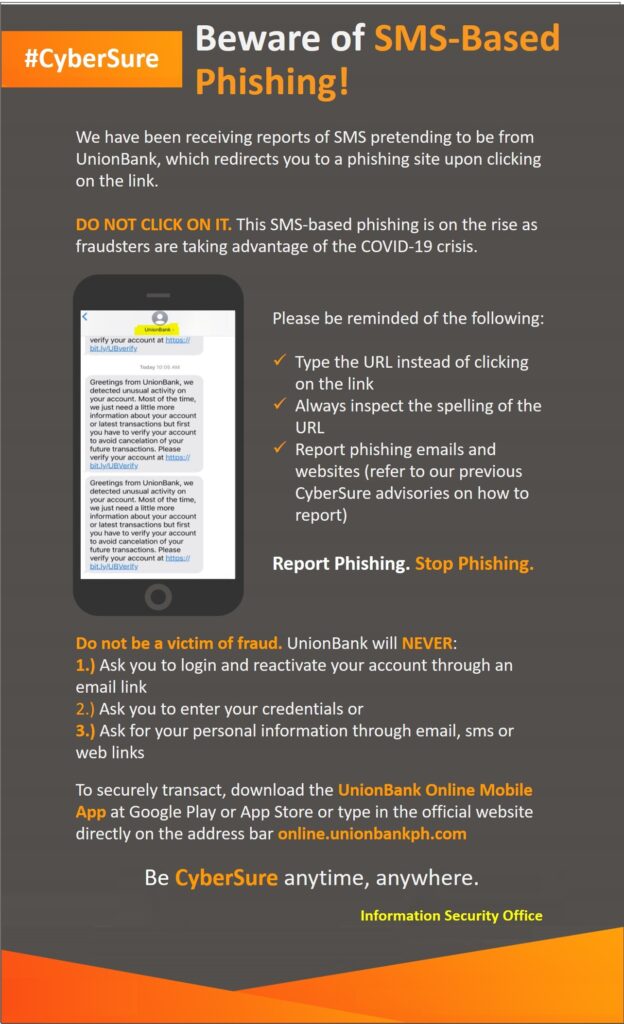 - Advertisement (300x250) -
Here's what you need to do should you receive suspicious SMS.
DO NOT CLICK ON IT.
This SMS-based phishing is on the rise as fraudsters are taking advantage of the COVlD-19 crisis.
Please be reminded of the following:
Type the URL instead of clicking on the link
Always inspect the spelling of the URL
Report phishing emails and websites (refer to our previous CyberSure advisories on how to report.
REPORT PHISHING. STOP PHISHING.
Do not be a victim of fraud.
UnionBank will NEVER:
1.) Ask you to login and reactivate your account through an email link
2.) Ask you to enter your credentials or
3.) Ask for your personal information through email, sms or web links
To securely transact, download the UnionBank Online Mobile App at Google Play or App Store or type in the official website directly on the address bar online https://unionbankph.com
Be CyberSure anytime, anywhere.