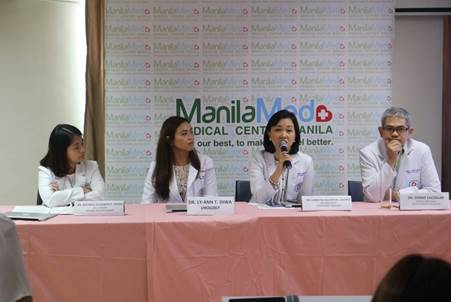 It is a fact that cancer is among the four epidemic non-communicable diseases and lifestyle-related diseases that plague Filipinos, along with cardiovascular diseases, diabetes mellitus, and chronic respiratory diseases. It is also one of the leading causes of morbidity and morality after diseases of the heart and the vascular system according to Philippine Health Statistics.
- Advertisement (300x250) -
There are different types of cancers that affect parts of a human being's body and the most prevalent among Philippine women is breast cancer followed by Cervical. However, according to Dr. Clarito Cairo, cancer manager of the Department of Health, that for every four Filipinas who survive breast cancer, only 2 to 3 will survive cervical cancer.
For male it is said that prostate cancer is the second most prevalent cancer among Filipinos and it is followed by after lung cancer.
In a report made by the American Cancer Society, it is revealed that the rate of people dying of cancer in the US has steadily been declining for 26 years and in the same report, it is cited that early detection played a big factor to the decline as well as improvement of treatments.
EARLY DETECTION
Early detection of cancer can save lives.
For Breast cancer, detection can be done through mammogram and/or breast magnetic resonance imaging (MRI), as well as a clinical breast exam conducted by a doctor or nurse. In the case of cervical cancer, screening can be done through pap smear or visual inspection with acetic acid.
For prostate cancer, which is a concern for older men, watchful waiting is recommended—with visits to the doctor every 6 months to ascertain whether a PSA test or digital rectal exam should be conducted.
In helping cancer patients, ManilaMed's Cancer Care Center sets the gold standard in patient care with state-of-the-art facilities and well-trained professional healthcare workers. But above and beyond treating cancer, ManilaMed aims to treat people and improve their quality of life.
To do this, it has adapted a holistic approach to cancer care, including psycho-social and spiritual support for patients. If necessary, palliative care is also available in order to improve patients' quality of life through supportive care and pain management.
"Early detection and proper treatment are vital in dealing with cancer." Dr. Dennis Sacdalan, medical oncologist and head of the Cancer Care Center of ManilaMed, reiterated the hospital's commitment: "By making available the facilities and expertise of our healthcare professionals at the ManilaMed, we pledge to make early detection and treatment more accessible and available for more Filipinos. More than this, we offer the gold standard for patients, so as to contribute to a better quality of life."
Make an appointment at the ManilaMed Cancer Care Center today! Call telephone numbers: 85238131 to 65. You can also check ManilaMed's Facebook page (https://www.facebook.com/ManilaMed/) and the website manilamed.com.ph to find out more about their services.